Little Oakley under 12s football team celebrate on open-top bus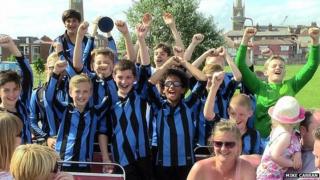 An under 12s football team celebrated their title-winning season in style after a parent booked them a surprise open-top bus parade around Essex.
Little Oakley won the Colchester and District C League by two points after going on a 12-game winning streak.
After receiving their trophy on Sunday, family and friends lined the streets of Dovercourt and Harwich to cheer the players on.
Captain and centre-back Joe Watt, 12, said it was a "brilliant day".
Manager Mike Carran said the team were stunned when just after being handed their silverware, a double-decker bus draped in a "League Champions" banner reversed down the club's driveway.
The Acorns then set off on their victory journey, with locals and tourists also joining in the celebrations.
Joe said: "It was a brilliant day and all the lads were singing on the bus as we drove around town. Everyone was cheering and giving us the thumbs up."
Mr Carran, who will join the team as they battle in the under 13s league next season, said: "It was an amazing experience for the lads and I am sure this is something they will remember for the rest of their lives."