Southend half marathon death: Hundreds pay tribute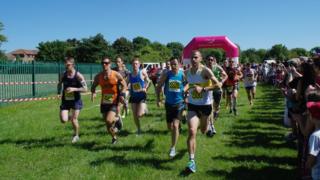 Hundreds of people have paid tribute on a charity's Facebook page following the death of a man who collapsed at the finish line of a half marathon.
The runner, who was in his 30s and has not been named, took part in the Southend half marathon on Sunday.
Staff in a medical tent tried to revive him, but he died a short while afterwards.
Havens Hospices, which organised the event, said its thoughts and prayers were with the man's family and friends.
"It is with immense sadness that we can confirm a runner who took part in the Southend Half Marathon has died," it added.
"The male runner collapsed at the finish line and treatment was given immediately by the on-site medic team, then [he was] transferred to the medical tent where he was treated by a senior doctor, but he sadly died a short while afterwards.
"His next of kin have been informed."
'Immensely hot'
The post on Facebook had attracted more than 300 comments by early on Monday.
"Tragic, tragic news, I feel for the gentleman's poor family," one comment said.
"It would be good to be able to donate in his honour in the coming days if he has a charity page."
Another said: "This man has give his life for the sake of helping others. HERO RIP."
Many people who commented referred to the weather on Sunday.
"Ran this event today and was immensely hot. This man came through the finish line just after me raising money for a fantastic cause," one woman said.
"It was so hot but the courage and determination of the runners was amazing. Such a sad sad story," said another comment.
Temperatures reached 23C on Sunday, which is about five degrees above the average and "not abnormal" for early June, forecasting company Weatherquest said.
A man in his 40s collapsed about an hour into the race at just before 11:00 BST and was treated by onsite medics, the East of England Ambulance Service said.
He did not need to go to hospital, it added.