Shoebury East Beach to be surveyed by Royal Navy bomb team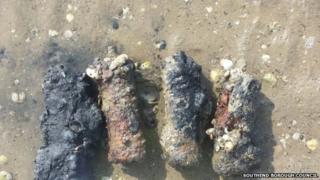 A Royal Navy bomb disposal team has begun surveying a beach where dozens of wartime shells have been found.
East Beach at Shoebury, Essex, was temporarily closed by Southend Borough Council last month.
The naval team will be looking at sample areas and excavating metallic items found during a previous geophysical survey.
However, the MoD says its two-day operation is for reconnaissance rather than clearance of the area.
Any explosives found would be made safe, the MoD said.
"The MoD plans to meet with the council in mid-June and recognises the need to inform the authority of its revised assessment of the level of risk at the site as early as possible," an MoD spokesman said.
No decision has yet been made about when the beach will reopen.