Colchester Hospital report delayed by legal issues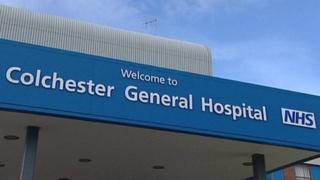 An independent report into a hospital that allegedly put patients' lives at risk has been delayed.
The Care Quality Commission (CQC) said staff at Colchester Hospital's cancer unit told inspectors they were "bullied" into falsifying patient data.
A report into what happened was expected to have been published earlier this year, but the delay means it could be months until it is made public.
Health regulator Monitor declined to specify what caused the delay.
But a spokeswoman said it had received a draft copy of the independent investigation and "the appropriate due process" was being followed "which includes legal advice".
Waiting time concerns
Last November the CQC said staff told inspectors they were "pressured or bullied" to change data about patients and their treatment, to make it seem as though people were being treated in line with national guidelines.
It also found three patients who had waited more than 100 days for treatment.
Essex Police said it was looking into whether a criminal investigation was needed.
The independent report is being conducted by former deputy chief medical officer for England, Pat Troop, and Carole Taylor-Brown, a former chief executive of NHS Suffolk and ex-chair of the Anglia Cancer Network.
The inquiry will identify how the NHS Trust that runs the hospital responded to concerns about waiting times and consider what lessons can be learned.
Another CQC inspection was carried out at the hospital this month after it was placed into special measures, but the results have yet to be made public.