Colchester's 'Jumbo' water tower fetches £190,000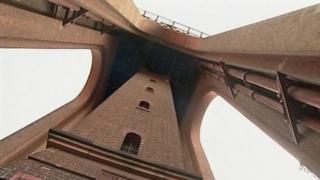 A landmark Victorian water tower has been sold at auction for £190,000 to an unnamed buyer.
The Colchester tower, nicknamed "Jumbo", was sold in London without a reserve price on Thursday.
The Balkerne Tower Trust had hoped to purchase the 130ft (40m) high Grade II-listed building, but admitted its postal bid of £40,000 was "peanuts".
Developer George Braithwaite put the tower up for auction after his plans to convert it were rejected last year.
He paid £330,000 in 2006 for the tower in Balkerne Passage, proposing to turn it into a museum, flats and restaurant.
Brian Light, chairman of the Balkerne Tower Trust, said it wanted to buy the building as it had been "neglected".
However, it had only been given four weeks' notice of the sale.
"We're a small local charity so we got busy getting donations in and got up to £40,000," he said.
"Logically, we thought the building has no development potential so we stood a good chance, but unfortunately we always recognised people would be likely to speculate.
"We have to be a little bit realistic - £40,000 is peanuts."
He added he hoped the tower would not become an "albatross" around the new owner's neck.
Richard Adamson, from property consultants Allsop, said: "I can't tell you who's bought it as we're in the process of taking their details.
"There were four or five bidders in the room and a postal bid as well, so there was some competitive bidding."