Essex Maldon river mud race attracts charity fundraisers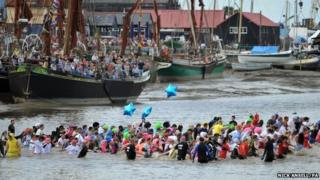 Hundreds of people waded through thick Essex river mud in a variety of outfits to raise money for charity on Sunday.
The annual Maldon mud race attracted people of all ages and the challenge is to dash across the river bed of the River Blackwater.
The 500-yard (457m) race, first run in the winter of 1973, is held at spring low tide for safety reasons.
It began with a dare by a resident to the landlord of the Queens Head pub on the Hythe Quay in the town.
He had to serve a meal on the saltings, land in the river that only appears at low tide, dressed in a dinner jacket.
The challenge was accepted and carried out.
The following year a bar was opened on the saltings and 20 people volunteered to wade across the mud, drink a pint of beer and struggle back.
The event has grown from these small beginnings and now hundreds of people take to the mud for a charity sponsored fundraising challenge.