Boxted double death man reported shooting wife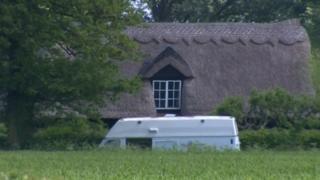 A husband called 999 to report he had shot his wife and planned to shoot himself, Essex police have said.
Harold Ambrose, 82, and his wife Wendy, 77, were found at Chapel Road, Boxted, early on Saturday, by police concerned about their welfare.
Police said the call was received from a man, who they believe was Mr Ambrose, and armed officers went to the house.
A spokesman said a post-mortem examination revealed both died from shotgun wounds.
Mr Ambrose's body was found in the back garden and "he had a single shotgun wound to the face", the spokesman said.
"Mrs Ambrose was found in a chair in the lounge and she had suffered two shotgun wounds, one to the face and another to the head," he said.
No-one else was sought in connection with the deaths.
An investigation is continuing and the house remains cordoned off while other searches are carried out, he said.