Essex school lollipop axe plan dropped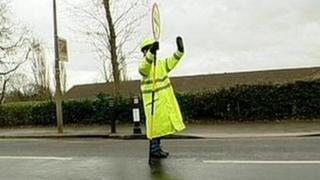 A proposal to scrap 200 crossing patrols in Essex has been axed after attracting strong opposition.
Essex County Council's proposal would have included the axing of 48 lollipop patrols and was intended to save £320,000 a year.
The move attracted a series of objections, including "many" from schoolchildren, the authority said.
Rodney Bass, highways and transportation cabinet member, said the council had listened to the concerns.
"The financial position of Essex County Council is better than it was when we started this consultation as we have been single-mindedly engaged in transformation which has made our financial position strong," he said.
'Great news'
"Representations have been made during an extended period of consultation and we have examined and analysed them."
Mike Mackrory, leader of the Liberal Democrat group on the council, described the U-turn as "great news" and said the proposal should never have been made.
However, the Conservative-run council said seven school crossing traffic-light controlled patrols at pelican crossings will be removed - four of which are currently vacant.
Mr Bass has requested the council looks at ways to fund the service in the future, which could mean it is expanded.