Colchester's 'Jumbo' water tower to be sold at 'no reserve' auction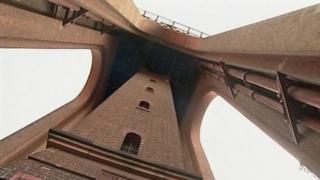 A landmark water tower is to be sold at auction with no reserve price and its owner says he is prepared to make a loss.
Property developer George Braithwaite bought Colchester's "Jumbo" tower for £330,000 but plans to turn it into a museum, flats and restaurant were turned down last year.
The tower will be auctioned by Allsop in London on 29 May.
Mr Braithwaite said he would sell it at "whatever price I can get".
'Years of effort'
The 19th Century water tower, which stands 130ft (40m) tall at Balkerne Passage in the town centre, was bought at auction in 2006 by Mr Braithwaite, who is based near Stowmarket in Suffolk.
He said he had spent more than £1m on roof repairs and on the planning application.
Colchester Borough Council's planning officers recommended his plans be approved, but councillors rejected the scheme.
Mr Braithwaite said there was no reserve price at auction.
"It's not a question of taking a hit financially - it's about the time I spent trying to do something with it," he said.
"It's been eight years of effort and I could have been doing something more constructive.
"I'll sell it at auction at whatever price I can get - but I'm disappointed for the people of Colchester as much as myself."