M11 motorway pile-up leaves two dead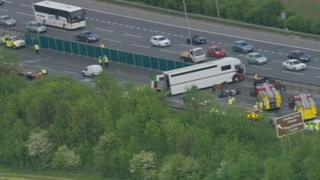 Two people have died in a motorway crash involving three cars, a lorry and a horsebox.
Part of the M11 has been "completely blocked" following the crash on the northbound carriageway, between Harlow and Bishop's Stortford, at 14:15 BST.
Two people in one car have died. A man and a woman from another car have been taken to hospital in Cambridgeshire.
A man has been arrested on suspicion of causing death by dangerous driving, Essex Police said.
The force advised people to avoid the area as tailbacks stretched to four miles (6.5km).
The northbound carriageway has been closed.
A police spokesperson said: "The carriageway is completely blocked and is impassable.
"The road will remain closed throughout the afternoon and into the evening."
It has emerged the horsebox was carrying five horses from trainer Brian Meehan's stables.
A statement on the stable's website said the horses had been taken to the Newmarket Equine Centre, where they were being assessed by vets.
"It is obviously very upsetting for everyone concerned, but they could not be in a better place to receive the care they need," the statement said.