Pool couple thought to be 'playing dead', inquest hears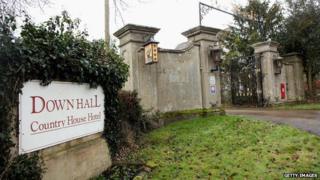 A hotel manager has told an inquest how staff tried to save a couple who drowned in a pool after first being told they may be "playing dead".
Komba Kpakiwa, 31, and Josephine Newahun Foday, 22, drowned at the Down Hall Country House Hotel in Hatfield Heath, Essex, in April last year.
Deputy general manager Craig Vines said he helped a colleague pull the couple out of the water and performed CPR.
A previous guest had raised concerns about pool safety, the inquest heard.
Mr Vines had been told the couple were seen "playing dead" in the pool or that "something inappropriate was going on", he told the inquest in Chelmsford.
"When I got to the pool it took me 30 seconds to come to my senses and realise they were in trouble," he said.
No CCTV
The inquest previously heard how a hotel guest initially thought the bodies were there as part of a murder mystery event.
The couple had been celebrating Miss Foday's birthday. Neither could swim.
Both were pronounced dead at the scene.
A previous guest had raised concerns about safety, the inquest heard, but there had never been a major incident.
Mr Vines said no lifeguard or CCTV camera monitored the pool.
A post-mortem examination found Mr Kpakiwa, from Erith, and Miss Foday, from Plumstead, both in south-east London, died from drowning.
The inquest is expected to end on Thursday.