David Parker jailed for hiding wife's body in Clacton caravan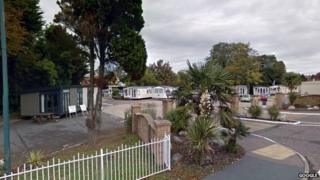 A man who said he was suffering from "shock" over the death of his wife has been jailed for a year after hiding her body in a caravan in Essex.
Jacky Parker, 52, died in her sleep at Valley Farm park in Clacton last year.
David Parker, 50, of Evans Court, Halstead, told his brother about the death. When arrested Parker insisted to police his wife was on a cruise.
He was sentenced at Chelmsford Crown Court after pleading guilty to concealing a body.
The court heard Parker had woken up in the caravan last November to find his wife had died in her sleep. He then put her body under a bed in the spare room.
'Callous behaviour'
The body was discovered four days later after Parker's brother, whom the defendant confided in but asked not to tell anyone, called the police.
Police said last year that initial post-mortem examination results proved inconclusive, with further toxicology tests needed to be carried out.
Judge John Dodd QC, who also sentenced Parker for admitting breaching a restraining order banning him from contacting his wife, branded Parker's actions as "callous behaviour".
But he accepted that Parker may have acted as he did "as a result of shock".
He added that while there was not a "sinister intent" in Parker's actions there could be "some grieving" for the way he had treated his wife's body.