Towie row over Ongar fish and chip shop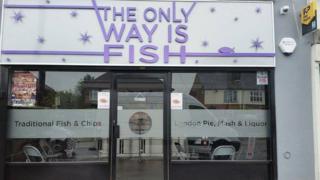 Owners of a chip shop called The Only Way is Fish say they have been told they are infringing trademarks of the ITV show The Only Way is Essex.
The takeaway on Fyfield Road in Ongar has been given 14 days to change its branding.
Lime Pictures, production firm for the ITV show, said the use of "The Only Way Is" and its logo caused the dispute.
Co-owner Dave Edwards, who is seeking legal advice, said the shop was not damaging the show.
He said there were notices up in the takeaway saying it had no connection with the programme.
The letter from Lime Pictures, dated 2 May, said the company had seen an article in the local Guardian newspaper about the chip shop and noticed it had "copied our logo without permission".
It added the shop also had a Facebook page that illegally used the show's "marks".
The letter warned the firm must stop trading under its "marks" and remove its Facebook page within 14 days to avoid action being taken against it.
'Good publicity'
Mr Edwards said: "I don't see how you can copyright the English language, so I am going to get legal advice.
"It's a classy and trendy shop and I don't see how on earth it's affecting the TV programme - it's good publicity for them."
The Only Way Is Essex, also known as Towie, is a scripted reality show on ITV2 which follows the lives of a group of people in the Brentwood area.
In a statement, Lime Pictures said: "We own the intellectual property in The Only Way Is brand and we will take steps to protect our brand in line with industry practice".
A spokesman said the company was "aware" of other businesses infringing on its intellectual property, but declined to say what action was being taken.