Danish Kaneria loses appeal over lifetime ban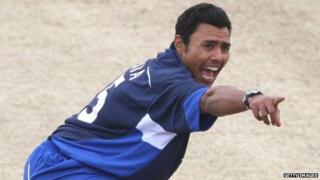 Ex-Pakistan and Essex cricketer Danish Kaneria has lost an appeal against his lifetime ban over match-fixing.
The 33-year-old spinner was charged with inducing his Essex team-mate Mervyn Westfield to "deliberately concede" runs in a limited-overs game against Durham in 2009 and bringing cricket into disrepute.
The England and Wales Cricket Board (ECB) found the charges proved and imposed a lifetime ban in 2012.
The High Court dismissed the appeal.
'Financial reward'
Kaneria claimed an ECB appeal panel had been wrong to uphold the life ban in 2013, and wrong to order him to pay the ECB legal costs of £200,000.
Mr Justice Hamblen said the appeal panel had not exceeded its powers and there were no grounds for suggesting that an error of law had been made.
The court heard the ECB took disciplinary action against Kaneria after fast bowler Westfield agreed to "spot fix" and he was jailed.
Westfield admitted that he had bowled "deliberately badly" after agreeing to concede 12 runs in his first over for "financial reward", said the judge.
"In the event he conceded 10 runs, including a wide, and received £6,000," the judge added.
"For this 'spot fixing' he was sentenced to four months' imprisonment in February 2012."
Kaneria had denied the allegations against him and has accused the governing body of treating him differently from Westfield, who was given a five-year ban from professional cricket and has recently been cleared to play club cricket in Essex.
The ECB ban means Kaneria, who took 261 Test wickets between 2000 and 2010 to become the most successful Pakistan spinner in history, is ineligible to play cricket under any authority affiliated with the International Cricket Council - meaning his ban applies worldwide.