Colchester Castle's lift breaks down after £4.2 makeover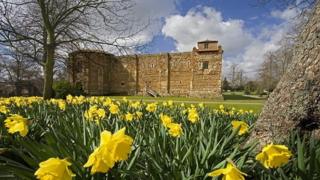 Four people were trapped in a new lift at a castle on the weekend it re-opened after a £4.2m makeover.
Firefighters were called to Colchester Castle on Saturday afternoon and released the occupants within 30 minutes.
The castle opened to the public on Friday after being closed for 15 months.
Colchester Borough Council museums service has yet to comment on what went wrong.
The fire service said crews were able to get the lift working again using a manually-operated handle.
It is the first time the tourist attraction has had a lift.
The Norman castle was built on the orders of William the Conqueror in the 11th Century.
Heritage Lottery Fund money was used to install under-floor heating and introduce new displays and a mobile phone app for visitors.