Police in 'Constable Country' Dedham parking glue probe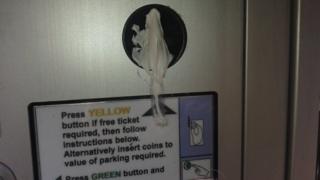 A row over controversial parking meters in the heart of "Constable Country" has escalated to a police investigation.
The new parking charges came into effect in Dedham, near Colchester, earlier this month.
But within days of the new regime, the coin slots in the meters were filled with glue, preventing their use.
Businesses say the culprit's actions show the "strength of local feeling". Colchester Borough Council said the sabotage was a "wanton" criminal act.
Daily charges
Dedham, on the border between Essex and Suffolk, was featured in paintings by John Constable and sits in an area of outstanding natural beauty.
Efforts by Colchester Borough Council to introduce parking charges were shelved last summer after objectors voiced concerns about how the proposals would affect tourism and businesses.
But the charges of up to £4 per day for those using the Mill Lane and Mill Pond car parks were introduced on 7 April.
Between 14 April and 19 April, Essex Police said, the machines at both locations were glued shut, making it impossible for them to be used.
The council said the machines had since been repaired.
The council says the charging policy was agreed with Dedham Parish Council and would raise money for community facilities in Dedham.
But Ian Wickes, of the Essex branch of the Federation of Small Businesses, said: "Implementing this scheme was wrong. Local residents said it was wrong, and Dedham's business community said it was wrong.
"Whilst the FSB in no way condones this act of vandalism, it illustrates the strength of local feeling about a scheme that no-one wants, and that local businesses are now reporting is impacting [on] trade."