Essex quay forklift truck fall: Sinkhole theory probed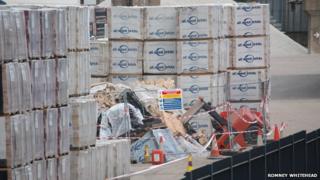 The Health and Safety Executive has confirmed it is investigating how a forklift truck at a port collapsed into a suspected sinkhole.
The vehicle became stuck after falling into a hole which opened up on Mistley Quay in Essex on Tuesday.
Some in the area said the collapse could have been caused by the weight of the truck on the centuries-old quay.
TW Logistics said a "full assessment" was be carried out into how the ground collapse was caused.
Nobody was injured by the ground collapse. Metal fencing has been placed around the hole.