Essex green energy project to create 1,150 jobs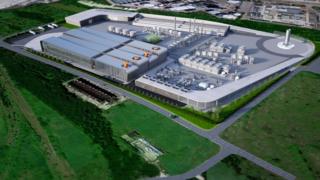 A multi-million pound energy plant to turn waste into jet fuel will create 1,000 building jobs and 150 permanent jobs in Essex, it has been announced.
Solena Fuels is to build the plant at the Thames Enterprise Park, part of the former Coryton oil refinery site in Thurrock.
The company is working with British Airways (BA) to provide the fuel for BA's London City Airport flights.
About 575,000 tonnes of waste will be turned into 16 million gallons of fuel.
The firm will be processing waste normally destined for landfill or incineration.
Construction on the complex, which will be called the GreenSky plant, is due to start over the next 12 months and be completed in 2017.
Willie Walsh, chief executive of British Airways' parent company IAG, said: "The sustainable jet fuel produced each year will be enough to power our flights from London City Airport twice over, with carbon savings the equivalent of taking 150,000 cars off the road."
Robert Do, president of Solena Fuels, said: "We are looking forward to successfully building GreenSky London and partnering with British Airways on additional facilities in the United Kingdom."