Essex council leader criticises cost of 'trivial' FOI requests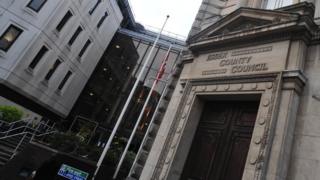 An Essex council leader has criticised the cost of "trivial" requests under freedom of information (FOI) laws.
David Finch said answering calls about apocalypse zombies or the number of lavatories, received this year, are a waste of money and time.
The county council boss said requests are increasing and his team will answer 3,000 this year at a cost of £236,000.
The Information Commissioner said access is vital to understand what public authorities are doing.
Mr Finch said each FOI request took nine hours to complete and while this was under the limit set by the commissioner the sheer numbers made it a very expensive exercise.
"Last year the cost was £185,000 and the year before that it was £148,000 so there is a steady increase.
"This money could be spent on frontline services for children, the elderly or on highway maintenance.
"I would never deny it was a valuable tool but much of the information requested is available on websites and other sources."
Profligate spending
He believes too many requests are trivial and asks the public and the media to seek other sources for the information in the first place.
"We do withhold information where it may concern vulnerable children, or if it is privileged or relating to an active law case."
An Information Commissioner's Office spokesperson said: "The access to information this law gives the public is crucial in helping us to understand what public authorities are doing in our name and with our money.
"In recent years the Act has resulted in the release of important information that the public have a right to know about, such as the costs of major transport projects or information relating to trials into the latest medicines.
"It can reveal areas of profligate spending as well as good practice and value for money."