Chelmsford jail reopens wing to deal with convictions rise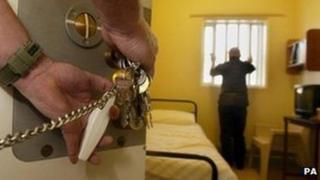 A wing to house more than 130 inmates at a prison in Essex is to reopen after it was closed in 2013 to cut costs.
The wing at HMP Chelmsford has been brought back into commission to deal with increasing numbers being jailed by the courts in the county.
A Ministry of Justice (MoJ) spokesperson said it was sensible to have places ready for convicted people.
The Prison Officers Association (POA) said it told the MoJ prisons were being shut too quickly.
"The prison population is increasing and the closures at Chelmsford and Hull would create problems," Steve Gillan POA general secretary said.
'Closing too many prisons'
"Chelmsford will be relying on officers not attached to a particular prison to staff the newly reopened wing as so many took voluntary redundancy when it closed.
"We warned the government they were closing far too many prisons too quickly when the prison population was unstable.
"There is no indication that the prison population is falling in line with their projections. In fact, our forecasts predict it will increase.
"But we welcome the reopening of the wing at Chelmsford," he said.
The MoJ spokesman said: "A wing at Chelmsford prison is to be reopened as a proportionate and sensible response to ensure that we continue to have enough prison places for those sentenced by the courts."
Prisoners convicted in Essex were being sent outside the county.