Southend flood defence backed despite protest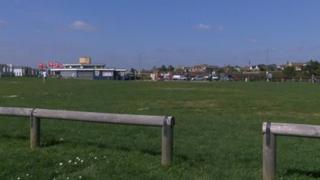 Plans to build a 7ft (2.1m) high earth wall as a flood defence in Southend-on-Sea have been approved despite public protest.
Protesters believe the wall across Shoebury Common would damage the look of the 100-year-old common.
But Southend Borough Council heard that about 240 homes could be hit by flooding if the wall was not built.
The council's development control committee voted 10 to four to approve the decision.
More than 80 members of the public, including members of the protest group Friends of Shoebury Common (FSC), attended the meeting and booed as the decision was read out.
Peter Lovett, from FSC, said: "It's unbelievable that a common that has been here since 1900... can be destroyed in such an uncaring fashion."
But John Lamb, deputy leader of the the council, said: "About 240 homes are at risk. If we don't put that protection in place those people are at risk."