Southend mother welcomes premature baby procedure review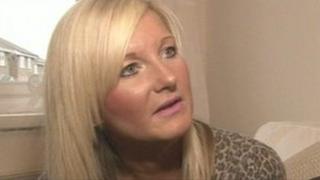 A mother whose baby died after being born at 22 weeks has welcomed a review in hospital procedure on early births.
Tracy Godwin's son Tom was born at Southend University Hospital in 2010 and lived for 46 minutes.
Ms Godwin, from Southend, said she was not told babies born between 22 and 23 weeks would not be resuscitated, and was left alone with her dying son.
The hospital said it had improved training and awareness among staff to help improve support for families.
It has continued its policy not to resuscitate babies born between 22 and 23 weeks, but it will now make that clearer to parents and take note of their wishes, it added.
An inquest earlier this month into Mrs Godwin's baby's death ruled there had been failings in the hospital's care.
In a narrative verdict, the Essex coroner Caroline Beasley-Murray said: "Baby Tom died of natural causes.
"[But] there were failings in the care that baby Tom and Tracy Godwin received at Southend Hospital.
"These did not affect the outcome."
'Tragic outcome'
The hospital's chief nurse Sue Hardy, said the hospital was "truly sorry" about the standard of care Ms Godwin and her son received.
"Since that time we have carried out a great deal of work to improve our internal policy for babies born under 24 weeks old, and have increased the level of training and awareness amongst staff of how to better support families experiencing what is an extremely emotional and tragic outcome," she said.
Six weeks after baby Tom died, Ms Godwin was told that resuscitating her baby was against the hospital's policy.
The hospital said it was up to individual trusts to decided their resuscitation policy for babies born between 22 and 23 weeks, and that Southend Hospital did not resuscitate babies of that age, but had to take note of the patient's expressed wishes.
Ms Godwin said she had not been told of that policy at any time during or after the birth of her son.
After the inquest, she said : "This ordeal has brought about significant change at the hospital and the fact that no other mother will go through what I went through is a positive that I will cherish.
"I now want mothers-to-be up and down the country to be aware of my case and the fact that each trust has its own guidelines in place which pregnant women must find out about."