London Southend Airport sets new passenger target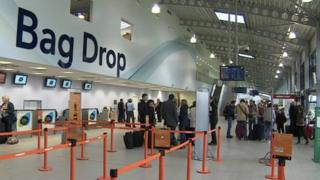 London Southend Airport in Essex expects to carry two million passengers by 2015 - five years earlier than originally planned.
Passenger numbers were 970,000 in 2013 and are predicted to be 1.3 million this year.
A £10m extension to the airport terminal was formally opened by the Transport Secretary Patrick McLoughlin.
The extension marks the end of a £120m revamp by the Stobart Group, which bought the airport in 2008.
Its original target was to get 2 million passengers passing through by 2020.
A bigger departure lounge, more check-in desks, revamped baggage reclaim facilities, a new arrivals area and five more plane stands have been built.
The campaign group Stop Airport Expansion and Noise (SAEN) said it would continue to oppose expansion.
Graham Whitehead, its chairman, said: "There is nothing to stop them increasing passenger numbers during their current allowed daytime hours.
"Our only hope is to persuade the local council to renew the terms of its lease if the airport tries to vary the hours it is allowed to fly.
"The airport is only served by one small road, so traffic problems are going to get worse."