Chigwell murder inquiry detectives 'frustrated'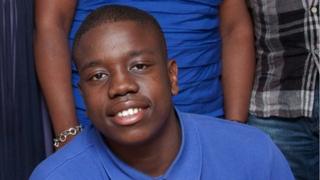 Problems with "un-cooperative" witnesses to the fatal stabbing of a teenager have left detectives "frustrated", police said.
Ayodele Osifuwa, 17, of east London, was found in Chigwell, Essex on 9 December and died on 7 February.
Essex Police said the case had been dropped against Marcus Audain, 20, of no fixed address, who had been charged with assault before Ayodele's death.
A 17-year-old boy and a man, aged 20, are due to answer bail in May.
'Disappointed in community'
Ayodele was found on a grass verge at the roundabout junction of Limes Avenue and Westmede, and taken Royal London Hospital by paramedics.
The student at Kensington and Chelsea College, who was hoping to go on to university, had suffered a leg injury and died in hospital two months later.
Mr Audain was arrested in January and charged with grievous bodily harm with intent.
Essex Police said a post-mortem examination had been carried out on Ayodele but the cause of death would not be released pending the results of further examinations.
Det Ch Insp Lucy Morris said: "The inquiry team have been left frustrated with the response from people living on the Limes Farm estate, and equally the family are disappointed and saddened by the lack of community assistance.
"We definitely know that there are a number of witnesses who have chosen not to speak to us or have been un-cooperative.
"Again, we urge those people to come forward and talk to us in confidence."
Speaking after his death, Ayodele's family said he was a talented and aspiring footballer with Grays Athletic FC.
He had been one of four sons and "had lived all his life within the love, care and affection of his parents and brothers," they said.
"There was never a dull moment with Ayodele.
"He was a very happy young man who always had a smile on his face. He had everything to live for."