Essex County Council pension fund 'invests in tobacco'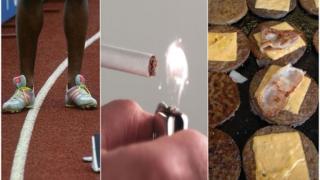 A council with responsibility for tackling smoking and obesity has defended its pension fund - which invests in fast food and tobacco firms.
The Essex Pension Fund is worth more than £4bn.
First reported by the Essex Chronicle, the fund has £40m in companies which make "unhealthy" products like fizzy drinks, fast food or cigarettes.
While some have called for a review, the council said the fund was run in the interests of employees.
The fund is administered by Essex County Council for its own employees and those of other borough, district and parish councils, as well as Essex Police.
Although it is run by the county council, the pension fund has its own board and the money it invests belongs to the workers who pay into it.
The county council took on responsibility for public health in 2013.
'Handcuff us'
It won the Royal Society of Public Health's health promotion and community wellbeing award in 2012, with the authority's cabinet member for health and wellbeing Ann Naylor saying: "Essex County Council is committed to demonstrating best practise in health promotion."
The authority's pension fund has investments worth nearly £15m in companies which make fizzy drinks and owns shares worth more than £6m in five tobacco firms.
While the investments only account for 1% of the total value of the fund, the council's Liberal Democrat leader Mike Mackrory said he wanted to the issue looked into.
"I have asked our representative to ask the head of the pension service for a review into these investments so that the board can make a judgement on where they think the best investments would be, balanced against the wellbeing for residents, " he said.
Rodney Bass, a Conservative county councillor and chairman of the pension fund's board, said: "The pension fund is different from the county council.
"To handcuff us in what we can and cannot invest in is really a stepping stone down which we should not go.
"If we go down that route we would have every moral indignation against a particular company precluding us from investing in it."