British Airways pilot killed in Essex aircraft crash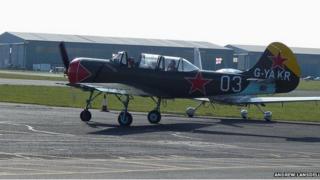 The man in charge of a light aircraft that crashed in Essex was an experienced British Airways pilot, it has emerged.
Andrew Sully and 29-year-old Simon Chamberlain died in Saturday afternoon's crash near Chelmsford.
British Airways confirmed Mr Sully, from Writtle, near Chelmsford, was "a highly-respected and popular member" of its "pilot team".
The YAK 52 plane they crashed in has been taken away for investigation.
Mark Reynolds saw the accident and described how the cockpit had "bent underneath" the plane.
Mr Reynolds, a chef at a pub opposite the crash site, said he was standing outside on a break with a colleague when they saw the plane overhead.
"While standing out the back of the building we saw a plane overhead doing what seemed to be, at first sight, aerobatics," he said.
"And then... it seemed more distress than aerobatics.
"It twisted and then took an immediate nose-dive... and at that point, I knew that it was going to crash so I immediately called the emergency services and ran to get to the crash site."
At first, he said, he thought the aircraft was just smoking. But as he got closer, he saw the flames billowing from the plane.
"We got within 10ft (3m) and we could see what I know now was the passenger. The cockpit had bent underneath itself."
The plane, which crashed near Cooksmill Green, had taken off from a nearby airfield and was seen by a number of eyewitnesses as it came down near the A414.
Mr Chamberlain, of Harlow, would have been 30 in May, his family said in a statement.
"Lizzie, his wife, has lost her best friend and soulmate. His son, Charlie, who will be two years old in August, has lost his father. And his parents, Paul and Steph, have lost a loving son. We love him more than anything in the world."
The Air Accidents Investigation Branch is investigating the crash.