Essex council in Deanes School improvement cash pledge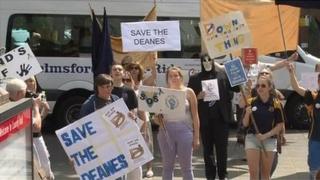 More than £2m has been pledged to carry out improvements at a school previously earmarked for closure.
Essex County Council's decision to close the Deanes School in Thundersley was overturned last month by the Office of the Schools Adjudicator.
The council's cabinet had previously deemed the Deanes "unviable" because it had seen a drop in its pupil numbers.
The council will now give £2.5m of the estimated £3m to £4m needed for "high-priority works" at the Deanes.
Council cabinet member for schools Ray Gooding defended its original decision to close the school but added: "We do have to respect the decision of the adjudicator."