Harlow fire deaths: Essex Police to review its investigation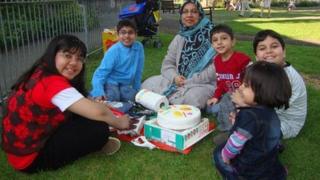 Essex Police is to review its investigation into a fire which killed six members of the same family.
Two people arrested on suspicion of murder in connection with the fire at Barn Mead, Harlow have been told they are to face no further action.
Dr Sabah Usmani and her five children, Maheen, Rayyan, Muneeb, Hira and Sohaib Shakoor died in the fire in 2012.
Essex Police appealed for anybody with information about the incident to come forward.
Dr Usmani's husband Dr Abdul Shakoor was the only survivor of the fire.
'Active investigation'
Det Supt Rob Vinson said: "We are still following up various investigative leads, as well as reviewing the investigation to identify further lines of enquiry.
"This is still an active investigation and we would still urge people to come forward."
It is believed the fire started in the lounge area, towards the rear of the end-terrace house in Barn Mead, on 15 October 2012.
Dr Shakoor jumped from a bedroom window in an attempt to get help, but he was unable to save any of his family.
Investigators have taken hundreds of statements and collected thousands of documents and exhibits as part of the inquiry.