Cancer blog boy Laughlin Whiteley makes 'good progress'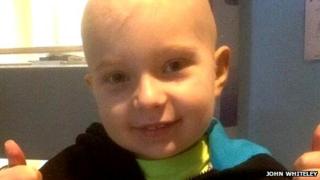 A seven-year-old boy whose father has documented his fight against two cancers is responding well to a stem cell transplant, his family have said.
Laughlin Whiteley, of Essex, endured surgery, radiotherapy and chemotherapy after he was diagnosed with a rare brain tumour at the age of four.
He then developed another rare cancer - myeloid leukaemia - in November.
John Whiteley, who has written a blog about Laughlin's illness, said a transplant last month was encouraging.
As his son's "guide and chronicler", he began writing in 2011 to help him cope and answer questions Laughlin - known as Lockey - may have about his illness when he is older.
Mr Whiteley, who lives in Burnham-on-Crouch, explained that blood cells taken from Laughlin since the transplant had been tested, and each was found to contain the donor's DNA.
"Now his new immune system has to identify any leukaemic cells to fight them," he added.
Doctors treating Laughlin at Great Ormond Street Hospital in London will perform a bone marrow biopsy next week to see if any cancerous cells are still present.
Mr Whiteley and Laughlin's mother, Andrea - both of whom have given up their jobs to care for Lockey, are hopeful of success due to symptoms Laughlin has suffered since the transplant.
"He has had a dreadful rash, like extreme sunburn," said Mr Whiteley.
"But it is a common effect of graft-v-host-disease [when new cells react with a host's body tissues] and it's indicative of the fact the transplant is working."
Laughlin has felt well enough to leave the hospital for short spells this week, have some lessons and take his first bites of food.
"He's still having IV (intravenous) feeds but he's started eating a little bit and these are the next steps to going home," said Mr Whiteley.
"I'm allowed to take him to the park but we have to keep away from groups of people and building sites because of the risk of infection."
The family also set up an awareness campaign - Unlock a Life for Lockey - as their son has been so moved by the plight of other children without a matching donor.
They were buoyed by the response to a recent event they set up with stem cell donation charity Delete Blood Cancer, which encouraged people to sign up as donors.
"We had 220 people register," Mr Whiteley said.
"Before, Delete Blood Cancer only had about 100 people from Essex on their register so it could make a big difference."