Jodie Fields death: Basildon ambulance crew sent to Leigh-on-Sea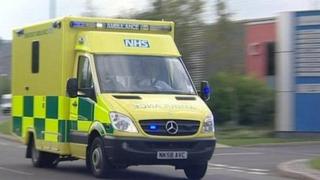 An ambulance crew took nearly half an hour to get to a woman in cardiac arrest after their sat-nav system tried to send them the wrong way.
Jodie Fields, 20, died at home in Leigh-on-Sea, Essex, on 20 May 2012, of sudden adult death syndrome.
An inquest in Chelmsford heard a lone paramedic arrived in four minutes, but an ambulance took 24 minutes to arrive.
There was no suggestion an earlier arrival might have prevented Miss Fields' death.
Coroner Caroline Beasley-Murray found Miss Fields, of Glendale Gardens, died of natural causes.
In the weeks leading up to her death, Miss Fields had repeatedly seen GPs with symptoms including leg pain, fast pulse, shortness of breath and dizziness.
'Busy or unavailable'
Ross Dixon, an emergency care practitioner with the East of England Ambulance Service, arrived four minutes after she was reported to be in cardiac arrest.
Mr Dixon, who was providing basic life support, called in an ambulance crew as back-up.
But the inquest heard that because no ambulance crews were available in nearer large towns such as Southend, Rayleigh or Canvey Island, a crew was sent from 10 miles away in Basildon.
Chris Smith, a paramedic on board, said he and his colleague used their sat-nav system because they were unfamiliar with the area.
"The sat-nav tried to send us the wrong way down a one-way road," he said.
"We would not normally respond to calls in that area from Basildon. Ideally there would be more local crews."
He said the sat-nav error probably set them back no more than a minute in their journey to Miss Field.
Pathologist Dr Konrad Wolfe, who carried out a post-mortem examination, said attributing a cause of death had been difficult because Miss Fields' organs appeared largely normal.