Essex County Council draws up school lollipop axe plans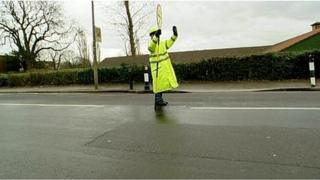 More than 50 lollipop men and women could lose their jobs under proposals put forward by Essex County Council.
The plans concern patrols near existing pedestrian crossings. Schools could be asked to fund these patrols.
But Matthew Fuller, head teacher at an affected school, said schools had already set their budgets for the coming year.
The Conservative-run council said it was reviewing the patrols because of its own "budget pressures".
The council estimates the cost of providing each crossing is about £5,860, which means the amount the council stands to save is about £320,000 each year.
If the proposals go through, the crossing patrols will lose council funding from September.
'Compromises on education'
Mr Fuller, head teacher at Broomegrove Junior School in Wivenhoe, criticised the council for announcing its proposals in mid March, when schools had already finalised their budgets for the coming financial year.
He said: "This (the crossing patrol cost) is money that will be taken away from children's education.
"We are constantly being told - and I agree with this fully - that we should be providing good and outstanding education for our children.
"If you take £6,000 away from our ability to do that then compromises are going to have to be made somewhere."
The county council said it had to save £235m by 2016-17. Consultation on its crossing patrol proposals will end on 24 April.
Rodney Bass, the council's cabinet member for highways and transportation said: "Due to the current economic climate and the pressure on local authority budgets we are reviewing the delivery of many aspects of public service delivery, particularly non-statutory services.
"In relation to any changes to the school crossing patrol, no formal decisions have been made."