Clacton gas explosion: clear up team to keep asbestos watch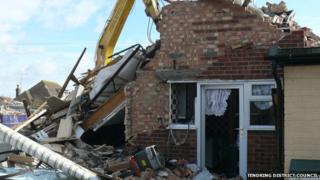 Workers will be keeping a "very careful check" for asbestos as they clear away wreckage left by a gas explosion.
February's blast in Cloes Lane, Clacton, left 10 people injured - two seriously - and a third house badly damaged.
Tendring District Council said contractors would try to salvage the personal belongings of those affected while clearing the site.
A number of those left homeless have been re-housed, the council said.
A man in his 70s and a woman in her 50s, who were badly burnt in the fire that followed the initial blast, remain in hospital. The council has set aside a cash sum for them to go into a private rented property in Clacton when they are allowed out of hospital.
Council spokesman Nigel Brown said: "Rose Builders are tackling the large amount of debris, keeping a very careful check for any asbestos.
"If any is found then we will need to call in specialist contractors which will inevitably cause a delay.
"The team on site will sort out any retrievable items which will be put to one side so that the people who lived in the two houses can come and go through them."
It is not known at this stage whether they will want to return to Cloes Lane once the properties have been rebuilt, said Mr Brown.
The council said one elderly man is in sheltered accommodation while his son and daughter-in-law are in a private rented house in the Tendring area.
The cause of the explosion continues to be investigated by the Health and Safety Executive.