Car reverses into Heybridge house and driver injured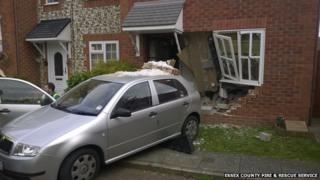 A woman has been injured after she reversed her car into a house in Essex and left it "severely damaged", Essex Fire service has confirmed.
Firefighters were called to Long Common, Heybridge, at 11:25 GMT.
Crews freed the driver from the car and she was treated at the scene before being taken to hospital.
Structural engineers and the fire service have made the house safe but the residents, who were not in at the time, will have to move out.
Tenant Jenna Moss said her three-year-old son was at nursery and she was with her eight-month old daughter at a baby sensory class when the crash happened.
"A friend phoned me because she'd seen a picture that looked like my house on the news and I got here and realised it was my house," Ms Moss said.
"I'm in shock at the minute and we have got to find somewhere else to stay - it's a bit unbelievable."
PC Andy Sumner, of Essex Police, said the driver appeared "to have lost control and struck two vehicles which were parked outside the house and then driven into the house, causing substantial damage.
"Thankfully, she appears to be only slightly injured and no-one else was hurt."