Essex mental health nurse suspended on 'sexual boundaries' charge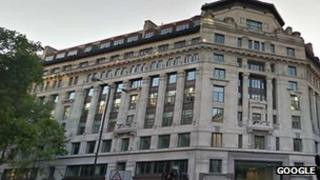 A mental health nurse has been suspended for "crossing sexual boundaries" with a patient.
Kenneth Ngobele, who worked for South Essex Partnership Trust (SEPT), persuaded a patient to go into a laundry room in 2009 and gave her his phone number.
The Nursing and Midwifery Council (NMC) heard Mr Ngobele talked about sex with her on the phone.
The hearing was told he deeply regretted his actions.
Other charges against Mr Ngobele, who works in Nigeria but attended the hearing in person, were either dismissed or found not proved.
'Isolated incident '
Mr Ngobele, who worked on the mental health assessment unit in Basildon, took the patient to dinner at a La Tasca restaurant.
The NMC hearing was told he talked about sex with the patient, but did not make advances.
The NMC conduct committee found he had "inappropriately crossed sexual boundaries".
Mr Ngobele told the hearing this was an "isolated incident of failings".
He was suspended from the NMC's nursing register for 12 months.