The Essex street lamp that has defied the 'lights off' plan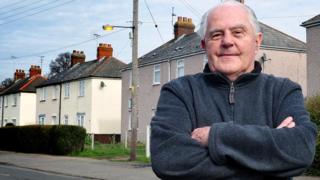 A lone street lamp in an Essex village is resisting a county council's plan to turn street lights off at night - by remaining on all day long.
Essex County Council says turning lights off between midnight and 05:00 will save £14m over a 13-year period.
The scheme was brought to the Chelmsford area late last year. But a lamp in Great Baddow has remained on.
The county council said it was trying to work out why the lamp in Crescent Road was permanently on.
Crescent Road resident Bert Hunt said: "The council is on about cutting costs, well they're not saving much on this one.
"At midnight all of the other lights suddenly go off - except for this one. It stays on, day and night.
"We are obviously paying for it through our council taxes and it should be simple enough to turn off."
A spokeswoman for the county council said: "We are aware of a fault with this particular street light in Crescent Road.
"We are currently trying to identify what is causing the problem so we can rectify it."