Ketchup slip and other claims cost Essex County Council £1m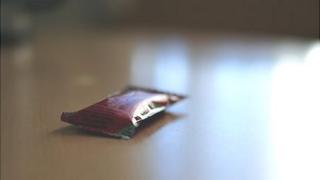 Nearly a quarter of the total compensation paid to staff hurt at Essex schools over three years went to a teacher who slipped on a ketchup sachet.
Essex County Council spent £1.05m settling 34 claims from 2011 to 2013.
The largest, of £230,000, was for a secondary school teacher who "slipped" in a hallway on what is thought to have been a "discarded ketchup sachet".
The council confirmed the teacher had been injured in the ketchup slip.
It did not provide any more details but said all claims were investigated.
The amounts paid were made available by the county council following a freedom of information request.
'Duty of care'
The total payout figures, the council said, include claimant damages and other costs associated with the case, such as third party and medical fees.
Most of the claims settled by the county council involve slips and trips, with four relating to assaults by pupils and one payout for stress.
The second largest payout was to a member of staff who suffered a spine injury after "slipping on a wet floor on two separate occasions on the same day".
A payment of £29,000 was made last year to a worker who damaged their wrist taking plates to a cupboard and £57,000 to an employee left with a head injury from a "fridge door falling onto (their) head".
Jerry Glazier, who is on the National Union of Teacher's (NUT) national executive and represents Essex, said he believed the figures were in keeping with other authorities.
"As a union we will support members who pursue claims for personal injury and when we feel they have been poorly treated by management in schools," he said.
"Employers have a duty of care to both pupils and staff."