Essex council resignation call over Deanes school decision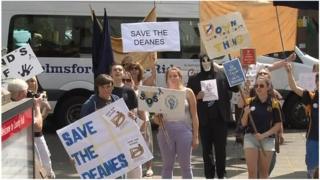 The councillor in charge of education at Essex County Council should resign over a failed attempt to close a school, an opposition politician said.
Essex County Council's decision to shut the Deanes School in Thundersley was overturned this week.
Mike Mackrory, the Lib Dem group leader on the council, said Ray Gooding, responsible for education, should quit.
But the Conservative-led council's leader David Finch said he would not accept a resignation from Mr Gooding.
On Tuesday, the Office of the Schools Adjudicator upheld an appeal against the council, meaning the school will stay open.
Mr Mackrory said Mr Gooding - who declined to comment on the matter - had "refused to accept the arguments" put forward by those who wanted the Deanes to stay open.
'Well-being paramount'
He said the arguments put forward to close the school had been "flawed" and that information put before decision makers "was wrong".
"Therefore," he said, "the decision the cabinet members made was flawed."
But Mr Finch said the data used in the council's decision to close the Deanes - which centred on a falling pupil roll - was correct.
He said Mr Gooding was responsible for 500 schools and 200,000 pupils. Their importance and well-being, he said, was "paramount" to Mr Gooding.
In reaching his decision, adjudicator David Lennard Jones agreed with the council over pupil numbers but found the council had "failed to engage with the school" about alternatives and instead presented it with "the decision that had been made".
The school is now seeking to become an academy, which would mean funding from central government rather than the council.