Essex hospital building site crush death employer fined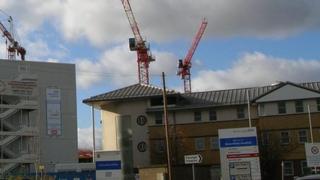 A building firm has been fined £175,000 after a worker was crushed to death at a hospital construction site in Essex.
Guilherme de Oliveira, 44, was employed by London-based Bouygues UK Ltd when the accident happened at Chelmsford's Broomfield Hospital in November 2008.
An inquest heard he died when a gust of wind caught a beam suspended from a crane and pinned him to a tower.
The company pleaded guilty to breaching safety regulations and was also ordered to pay £80,000 in costs.
Portuguese-born Mr de Oliveira's spine was broken in the accident and he died at the scene, on 10 November, an inquest concluded.
A verdict of accidental death was recorded.
'Foreseeable risk'
An investigation by the Health and Safety Executive (HSE) identified "serious safety breaches in [Bouygues UK Ltd's] lifting operations".
Its report said Mr de Oliveira, who was employed through an agency, was working on a support tower about three metres (10ft) off the ground when the weather worsened and the wind speed increased.
Although wind speed sensors were fitted to equipment, the company was not monitoring these centrally in the site office.
Instead, crane operators working at the site were monitoring the speed of the wind themselves.
"They would only have stopped lifting if they considered it necessary, and not necessarily when the maximum wind speed limit was exceeded," the HSE said.
HSE inspector Dominic Elliss said: "Although the judge was not satisfied that the company's failings were a direct cause for Mr de Oliveira's death, he said there was a systemic failure where a risk of serious injury was foreseeable."