Essex council will not get £4m Deanes School closure cash back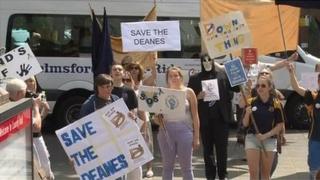 A total of £4m given out by a council during a failed school closure bid will not be recovered, the local authority has said.
Essex County Council agreed to shut the Deanes School last November.
On Tuesday, the Office of the Schools Adjudicator upheld an appeal against the council which means the school will stay open.
The council said the money it paid to two schools to take pupils from the Deanes had already been spent.
The two schools concerned - King John School and the Appleton School - are both central government-funded academies and will not now be required to take the extra pupils planned.
The council had claimed the Deanes was unviable because of falling demand for pupil places.
'Messed about'
Explaining why it gave each of the two neighbouring schools £2m, Ray Gooding, the council's cabinet member for education, said: "We clearly needed to make provision for the other schools.
"We needed to progress that at that stage."
The money given, he said, had already been spent.
Julie Young, leader of the Labour group on the council, said she questioned whether giving the money to the other schools was "the right use of resources".
"The school (the Deanes) has been messed about something terrible."
Jan Atkinson, head teacher at the Deanes, said the school hoped to become an academy and be funded by central government rather than the county council.