Dovercourt roller-skating rink saved by donations after injury claim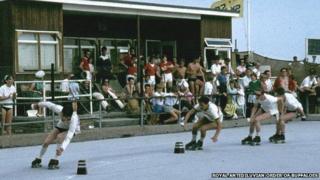 One of Britain's last outdoor roller-skating rinks has been saved through donations after it was threatened with closure following an accident.
The 1940s rink at Dovercourt, Essex, reopened in 2010 after a revamp.
But an out-of-court settlement after a customer was injured saw its insurance costs quadruple to £12,000 a year.
Volunteer John Brown said hundreds of pounds were secured over the winter, which will now keep it open until a new £4,000 insurance year begins in March.
The rink reopened in 2010 following a £30,000 revamp funded by the council and the Royal Antediluvian Order of Buffaloes, after it had shut five years previously.
But after a person was hurt on a ramp on the site in 2011, insurers opted to settle the claim outside of court, causing its insurance costs to rise sharply.
Mr Brown feared the facility would be forced to shut again permanently during the winter, with little money coming in through use of the rink.
But following donations from residents and local businesses, funding has been secured to keep the facility open.
"We had a well-supported half term, despite it being closed for two days by the weather," said Mr Brown.
"We had another setback when a storm blew the roof off the clubhouse, but that has all been covered by the insurance and it's now being finished off by the builders.
"Now we really want to get more local groups to get involved to keep it open. It's suitable for a whole range of things."
Since the claim, CCTV and extra warning signs have been put up at the rink, with people also being made to fill in disclaimers before using the facility.