Breck Bednar stab death: Family tribute to 'gifted' boy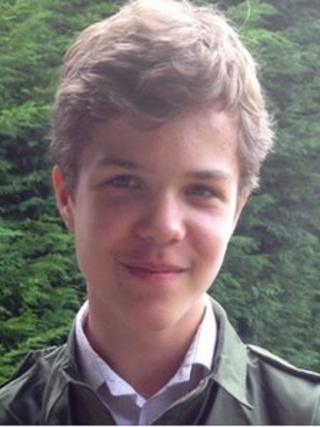 A 14-year-old boy who was found stabbed to death in Essex was "kind, intelligent" and "extremely gifted", his family have said.
Breck Bednar, from Caterham in Surrey, was found with a neck wound at a flat in Rosebery Road in Grays, on Monday.
"We are all in shock, and so grateful for the thoughts and prayers of friends and family at this difficult time," his family said.
Lewis Daynes, 18, of Rosebery Road, Grays, has been charged with murder.
He appeared at Chelmsford Crown Court earlier and was remanded in custody until 24 April.
Breck's family said they had been "devastated" by his death.
"[He] was a dedicated student at St. Bede's School in Redhill and extremely gifted in computing, electronics, and engineering," they said in a statement.
"His three younger siblings knew him as a kind and loving older brother who always helped out by looking after them.
"The wider family remember him as a well-mannered, social, and confident boy who was always thoughtful and patient with his younger cousins."