Jay Whiston: Party neighbour opened door to dying teen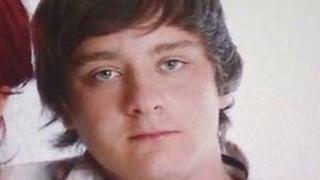 A jury has heard how a woman answered a knock at the door to find a fatally wounded teenager on her doorstep.
Jay Whiston, 17, died outside Jean Jenkinson's home in Marlowe Way, Colchester, on 8 September, 2012.
Edward Redman, 18, of Wayland Drive, Colchester, denies murder. His ex-girlfriend, Shannon Fenlon, father Gary and brother John deny related charges.
In a statement, Ms Jenkinson told Chelmsford Crown Court she saw an A4-sized patch of blood on Jay's abdomen.
She said the knock had come at about 22:00 and she opened it to find two young men standing there.
One told her Jay had been stabbed. The other was Jay, who was bleeding heavily.
Ms Jenkinson went to telephone for an ambulance and returned to find the wounded boy "laying on the porch on his back".
He was making a "grunting" noise, she said.
When she asked a policeman later how the teenager was doing, she learned he was dead.
The court has previously heard how trouble had flared at the party, attended by about 100 people.
A fight broke out between two groups of teenagers over a bottle of alcoholic drink, the jury was told.
Miss Fenlon, 19, from Jameson Road, Clacton, denies perverting the course of justice.
Gary Redman, 51, of Colchester, and John Redman, 19, of Halstead, both deny the same charge.
The trial continues.