Children held over Blue House Farm Community Centre arson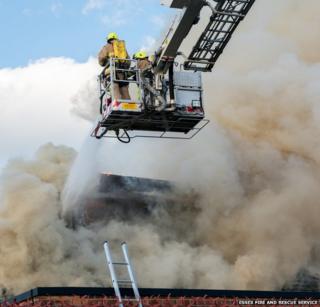 Two 12-year-olds have been arrested in connection with a fire at a community centre.
Blue House Farm Community Centre and the adjoining social club in Laindon were evacuated after a fire broke out on Sunday afternoon.
The fire started in the roof area of the building.
A boy and a girl were arrested at their homes in Basildon on suspicion of arson and later released on police bail until 6 May.
Divisional officer Moira Bruin said: "When crews arrived at the incident they were faced with a very well-developed fire in the roof void."
She said fire crews managed to prevent the fire from spreading to the social club next door.
Nobody was injured.