Brentwood Bangladeshi TV boss jailed over crash-for-cash scam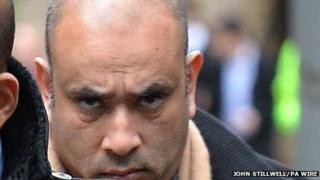 The founder of a television station for Britain's Bangladeshi community has been jailed for three years over a crash-for-cash insurance scam.
Mohammed Ferdhaus, 40, admitted laundering money from a scam operated by his brother, Mohammed Samsul Haque.
Ferdhaus, from Brentwood, Essex, founded satellite station Channel S.
Between 2005 and 2008, at least 124 claims linked to Motor Alliance, a firm run by Haque, brought Ferdhaus £500,000 profit, Southwark Crown Court heard.
Ferdhaus pleaded guilty to money laundering when he appeared before the court in July.
Haque and five other men were jailed in October 2011 for their scam, which was thought to cost the insurance industry £1.9m.
Of that sum, £1.17m was paid to Motor Alliance and at least £500,000 was transferred to Ferdhaus or companies controlled by him.
Well respected
The court heard that Ferdhaus committed money laundering offences in 2008 while awaiting trial for conspiracy to defraud - which he was later jailed for 18 months for at Croydon Crown Court.
In sentencing for the money laundering, Judge Anthony Pitts took his previous offence into account.
"Samsul Haque was your younger brother, you owned Prestige Auto Group and there was a very close connection between Prestige and Motor Alliance," he said.
Ferdhaus "knew very well" that the money he was laundering came from the crash-for-cash fraud, it was claimed.
In mitigation, Mark Milliken-Smith QC said his client suffered from post-traumatic stress disorder after being kidnapped and beaten in May 2011.
If he was jailed "there is real risk he'll suffer in a way which is far out of proportion with the criminality in this particular case", the defence told the court.
The judge accepted the defendant was "very well respected" in the Bangladeshi community.
But, he said, "an immediate custodial sentence of some length must be passed".