Colchester disabled parking space losses 'fair'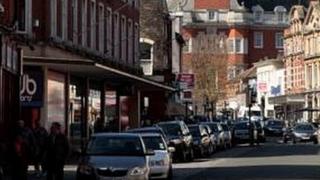 A disabled woman has lost a High Court case challenging the removal of parking spaces in Colchester.
Jade Hamnett, 26, said Essex County Council breached equality legislation by taking away parking spaces for disabled people on the High Street.
But Mr Justice Singh dismissed her application for a review after a hearing in London.
He said the removals were part of improvements and said the council had not made an "irrational" decision.
Miss Hamnett, chairwoman of campaign group Fair Access to Colchester, said they would appeal against the decision.
The judge said changes meant private cars were barred from parking in the High Street and a neighbouring street, and parking spaces for blue badge holders had been removed.
'Competing interests'
He said the council had provided additional spaces for disabled people in other parts of the town.
Miss Hamnett, who, the judge said, had a number of disabilities and used a wheelchair, said new spaces did not provide "equivalent" access to the High Street.
Essex County Council disputed her claim.
"The decision that the (council) had to take was a difficult one, raising a number of competing interests which had to be balanced," said Mr Justice Singh.
He added the council aimed to create a "safer environment for pedestrians" and reduce pollution.
"It cannot possibly be said that the decision was irrational," he said.
Miss Hamnett said she thought the challenge had been ground-breaking.
"Essex County Council acknowledged in their evidence for the first time that they were aware many Blue Badge holders would be unable to make their way to the High Street/Head Street from the additional spaces provided in existing parking locations on the other sides of the town centre," she said.
"We were surprised that the judgement did not concern itself with the adequacy of these parking locations."