Essex County Council offers £1m for flood affected areas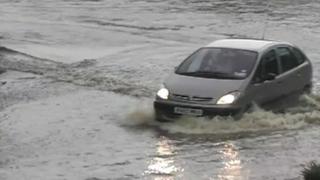 Emergency funding of £1m has been set aside to help alleviate the worst flooding hotspots in Essex.
On Friday, heavy rain caused widespread flooding in the county's Uttlesford district.
Conservative-controlled Essex County Council said the money would be used to clear culverts, empty gullies and remove debris.
It is asking local authorities in the county to nominate areas urgently needing improvements.
Rodney Bass, the council's cabinet member for highways, said: "Essex has experienced the longest sustained period of wet weather for many years.
"Investing resources sensibly in this way also prevents future flooding."
Jeremy Rose, the district councillor for Newport, which was flooded last week, welcomed the money but said the county council had previously underestimated the scale of the flooding risk in the village.