Clacton explosion: House explosion dog is found alive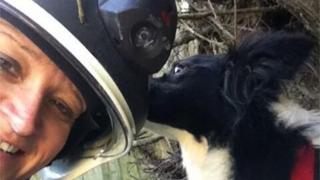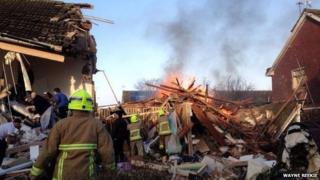 A dog feared dead after a gas explosion flattened two homes earlier this week has been found alive.
The blast happened in Cloes Lane, Clacton, on Wednesday, leaving 10 people injured.
A four-year-old border collie called Cayyad had been feared dead beneath the rubble left by the explosion.
But two days after the explosion, she began barking when she picked up the scent of the black Labrador search and rescue dog called Reqs.
Cayyad has now been taken to a veterinary surgeon for assessment.
A man in his 70s and a woman in her 50s were badly burnt in the fire that followed the initial blast
Both are now in a "stable" condition, Broomfield Hospital said.
A third house was also badly damaged.
An investigation into the exact cause of the explosion is under way.
The fire service said it was "extremely fortunate" that no-one had been killed.