Danny Mayzes sorry over 'Machete' Twitter comment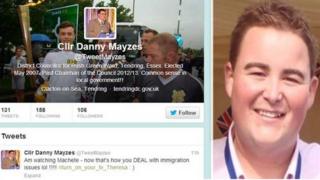 A councillor who tweeted to say a violent revenge film showed how "immigration issues" should be dealt with has apologised.
Danny Mayzes was suspended from Tendring District Council's Conservatives.
He tweeted "now that's how you DEAL with immigration issues lol" after watching a film called Machete.
An independent council investigation has found he breached the authority's code of conduct.
Mr Mayzes became Tendring District Council's youngest chairman in 2012 but stood down from the role last May after his year in office.
'Lightning won't strike twice'
Speaking about the finding, Mr Mayzes said he accepted the ruling and had apologised to his fellow council members.
"The message that was sent on Twitter was extremely far from the character which people know me by.
"We all make silly mistakes and hopefully, on this occasion, lightning won't strike twice."
He said he hoped he and his colleagues could "now move on" and focus on "doing the things that matter to our residents".
The Conservative group on the council has removed its suspension.
Mr Mayzes said he had put himself forward for media and social media training.