Chelmsford stranded horses rescued from floods by RSPCA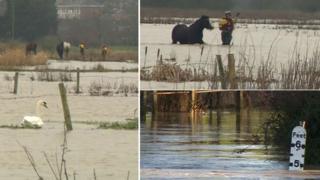 Eight horses have been rescued by the RSPCA and fire crews after they became stranded on flooded land in Essex.
Rising waters from the River Chelmer led to the animals being cut off on grazing meadows near the Chelmer Road viaduct bridge in Chelmsford.
Five of the horses were led through the waters on Friday, while the remaining three were ushered away on Saturday.
Officers wearing dry suits waded thigh-deep in water to load them on to a horse box for the owner.
RSPCA Inspector Nicky Thorne said: "In one place the horses had to go through a ditch where the water was deeper and they had to swim a few steps.
"The horses were next to a shopping centre, a pub and a road so we had quite a few people watching."