Deanes School in Essex inspected by independent adjudicator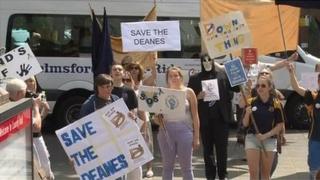 An independent inspector is looking into plans to close a school that Essex County Council decided was unviable.
Parents hope the Office of the Schools Adjudicator will recommend keeping open the Deanes School in Thundersley.
The county council's Conservative cabinet voted for closure in November despite opposition from parents, pupils, MPs and neighbouring councils.
A recommendation on the school's future is expected by March. The council said it was unable to comment further.
The Schools Adjudicator is a government watchdog but independent of the Department for Education.
Inspectors began their work on Thursday by meeting staff and county council officers.
They will re-examine evidence for and against the decision to close the school.
The adjudicator has the power to overturn the decision and rule the school should remain open.
Good Ofsted rating
Desi McKeown, assistant head teacher, said: "We are all very excited about this. It's what we've been waiting for.
"At last here is our chance to speak to someone completely independent and unbiased about why we all know the school should stay open.
"Now we are on a level playing field with someone who will listen to us and we're very optimistic."
Campaigners from the Save Deanes Action Group have distributed leaflets to local households with information on how to get involved.
Essex County Council said in November the school had 600 pupils and 418 spare places.
A council report said closing the school would cost up to £6.87m and the cost of replacing it with a smaller school would cost £10.5m.
Parents opposing the plans pointed to the school's good rating from the education watchdog Ofsted.
But the council's own report said despite a good Ofsted rating, parents were preferring to send their children to The Appleton School and The King John School, which received outstanding Ofsted reports.